Here's my very first Ballet Recital on March 28, 2015. I'm the sugar plum fairy at the end. Special thanks to Sarah March who set the ball in motion, and everyone else involved who made my dream come true! It really was a taste of heaven! I truly felt like royalty!

Here's some behind the scenes pictures and the story of what inspired the Ballet Recital. Enjoy!
Joni and Friends Family Retreat 2012 in Murrieta California. Art workshop with wheelchair artist Tommy Hollenstein. The theme was, "We Are His Workmanship." What a fun year that was!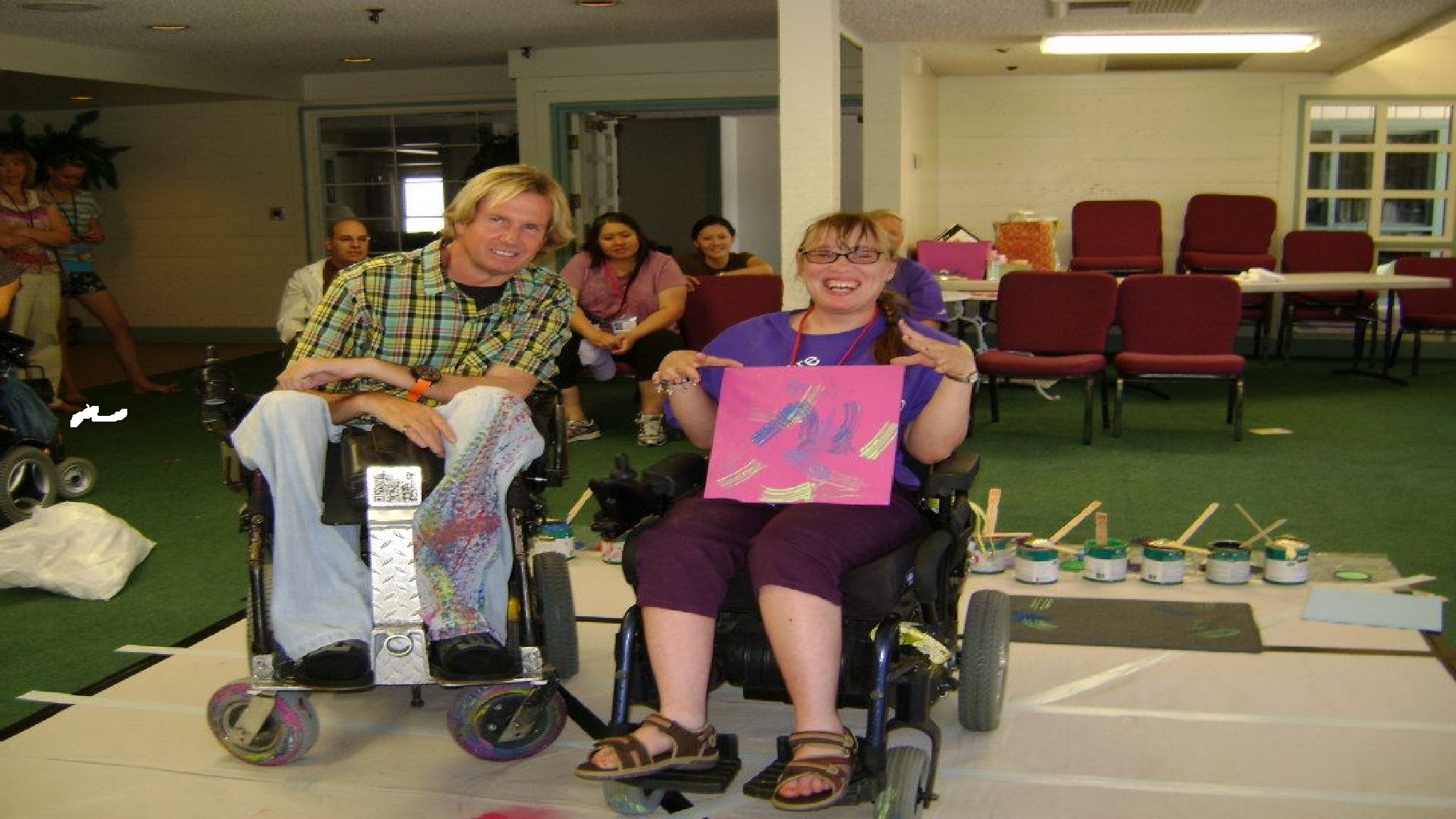 A friend of mine told me they started to read this article but didn't finish because they wanted to see the movie for themselves. This is not your typical movie review. If you want to see the movie for yourself, that's your choice. However, I suggest you grab a box of tissues! Then come to my Blog afterward, read the review, and learn how assisted suicide goes against God's will for the human race. HE LOVES YOU! YOU DO HAVE A PURPOSE FOR LIVING!
The other night my mom and I watched Me Before You on Hulu. The movie trailer makes it look so good. I was excited to have a person in a wheelchair as the main character. You don't get to see that very often in a movie. At a glance, it looks like the story of the development of an extraordinary friendship. It is— but that's not the whole picture. Unfortunately, looks are deceiving.
The movie is based on a novel written by Jo Jo Moyes in 2012. Sam Claflin plays William Traynor, who becomes almost completely paralyzed in the wake of a run-in with a motorcycle two years earlier. Will comes from a very wealthy family where they have a British estate crowned by a massive castle. His father, Steven Traynor, played by Charles Dance, is in the financial business. That's what Will used to do before his accident. Now that he's in a wheelchair, he just wants to stop living and shut out the world. He even pushed his ex-fiancé out of his life because of his accident.
In an effort to try to cheer him up, his mom Camilla Traynor, who is played by Janet McTeer, hires a caregiver. Her name is Louisa Clark. She is played by Emilia Clarke. Her former employer who was closing a Café gave her a letter of recommendation and described her as a person with, a "warm, chatty, life-enhancing presence with a lot of potential." It sounds like a perfect match right? She could be a good influence. Will's mom hires Louisa. He's very difficult. He just wants to be left alone. For a long time, he doesn't say a word to her. At one point, Louisa is ready to pack up and leave because Will is so difficult. Then Louisa learns he wants to go to a clinic in Switzerland where they will help him commit suicide and end his life. However, that's not for six months. There's still time. If she can show him adventures he can have in his wheelchair, maybe she can convince him to change his mind.
Louisa starts planning trips. They go to a horse race, a concert, a wedding, and more. Will even starts smiling and joking around. It looks like Louisa just might be able to win him over and get him to stick around. He even says, "You are pretty much the only thing that makes me wanna get up in the morning." Louisa answers, "Then let's go somewhere – anywhere in the world, just you and me."
He even talks about how he used to go to Paris. Louisa says, "Let's go," but he just can't get passed the fact that he's in a wheelchair now, and he doesn't want his memories replaced by the struggles to get his wheelchair under the table. He wants to go to Paris as his old self. The person Louisa never knew before his accident. Despite the fun they're having, Will can only focus on everything negative, like when his tires get stuck in the mud coming out of the van at the horse race.
In spite of all her energy and infectious smile, Will tells her when they go home he's going to Switzerland. He told his parents six months and It's been six months. Time is up. While they're under the stars on a tropical island, as she's crying he says, "Shh. Listen, this, tonight being with you is the most wonderful thing you could have ever done for me. But I need it to end here."
Even though she's crying and pleading for him not to do this, confronting him about his selfish decision saying things like, "I know we can do this. I know it's not how you would have chosen it, but I know I can make you happy. And all I can say in that you make me… you make me into someone I couldn't even imagine. You make me happy, even when you're awful, I would rather be with you – even the you that you seem to think is diminished – than with anyone else in the world. I have become a whole new person in the last six months because of you." He still goes through with the plan. How sad.
Something I find interesting is toward the end of the movie he writes Louisa a letter of advice that she reads while she's in Paris. He wrote it just before he died. Toward the end of the letter, Will tells her, "Live boldly. Push yourself. Don't settle. Just live well. Just live." Too bad Will couldn't learn to accept as my dad would say, "The new normal," and take his own advice. He had so much! Not only money but also love and support from friends and family. Too bad he couldn't have found a reason for living.
The movie really disgusts me for many reasons. First, before I wrote this article, I watched the process of assisted suicide on YouTube just to see exactly what happens. Both people who went through with it had an illness for a long time and didn't want to be a burden to people. In the movie, Will isn't even sick! The movie gives people with disabilities the impression living with a disability is too hard. Why not just end your life? It's okay to give up. No, It's not! Giving up is NEVER the answer!
Secondly, the movie is a love story and of course, they don't show the whole process because that's Hollywood. By the time Louisa gets there, the medicine has already been administered and Will is waiting to die. The two of them have a long dialogue of saying good-bye to each other before he actually dies. They make it look so peaceful. What they don't show is how in the clinic they first ask the person if they really want the drug knowing they will die. When the person says yes, they ask them if they're sure. When the person confirms they're sure, then they hand the person the drink. The person might get one line in thanking their loved ones for watching them, but that's it. The Euthanasia starts to take effect within 2-3 minutes. Once the person sips that drink, there's no turning back. Their organs are being destroyed. It makes them feel nauseated.
According to an article titled "Euthanasia Group Promotes Cheaper Drug for People to Use to Kill themselves in an Assisted Suicide," by Micaiah Bilger, they mix a white liquid with a combination of "phenobarbital, chloral hydrate and morphine sulfate in powdered form, which can be mixed with water, alcohol, juice or applesauce, according to the report. Wood said the new drugs taste worse, burn the mouth and may take longer to work than the more expensive drugs."
Morphine is used to suppress the person's breathing. Increased levels of morphine shut down the kidneys. I saw people grabbing tissues to try to catch drool or throw up. The taste of the liquid is so bitter the workers give people things like chocolate or apple juice to try to settle their stomachs. People start coughing and are asking for water. Eventually, the person goes into a deep sleep, the breathing stops, and then the heart and they're dead. 45 minutes is the shortest amount of time it takes to complete the process. The process can take up to 48 hours or more depending on the person's immune system. For one person I read about, the process took an entire week! I saw loved ones crying as they watched their loved one slowly die. It's horrible!
If that's not enough for you, here's a list of side effects that can happen during the process of assisted suicide. While the media often markets assisted suicide as a painless and peaceful death, an article titled, "Assisted suicide cannot promise you a peaceful or painless death," by Lani Candelora, indicates that's not true! "It can include gasping, muscle spasms, nausea, vomiting, panic, confusion, failure to produce unconsciousness, waking from unconsciousness, and a failure to cause death.
The most comprehensive study on clinical problems with assisted suicide was conducted over a six year period in the Netherlands, where assisted suicide has been legal for many years. The study was published in the New England Journal of Medicine on Feb. 12, 2000. It found that more than 18 percent of assisted suicides experienced problems severe enough to cause a doctor to step in and euthanize the patient. In at least 14 percent of assisted suicides the patient had problems with completion including waking up from a coma, not becoming comatose, and patients not dying after becoming comatose. Another seven percent of assisted suicides reported muscle spasms, extreme gasping for air, nausea, and vomiting.
Even assisted suicide advocate, Cynthia Barret, slipped up and discussed with the press a failed assisted suicide case where the patient was taken to a Portland ER and revived."
Don't all those side effects sound frightening and painful? Why would anyone want to put their body through any of that? What if it doesn't work? To me, it sounds riskier to die than to live! I don't like going to doctors in the first place and I have a weak gag reflex, so I'd throw up real fast. That would be a really unpleasant way to end my life. I'd rather just push through the hardships in life, let my experiences make me stronger, and pass that "dangerous wisdom" on to my friends and family. If I ever do get a terminal illness and the doctors tell me I only have six months to live, I'd rather just spend as much time as I can living. Doctors didn't think I'd make it out of the nursery, but I did. I've been a fighter all my life, why would I stop fighting until the very end? Life is an adventure! Don't miss a minute!
As Louisa's mom says before she goes to the clinic to see Will one more time, "It's no better than murder." Well said! My former aide in high school used to say, "Suicide is just a permanent solution to temporary problems." So true!
Thirdly, it really bothers me how despite all the fun Will and Louisa have together, Will is just not going to change his mind. It takes a special person to hang out and accept someone like Will. I know that from experience. Here he's got an extraordinary friendship, someone who is willing to take him places and accept him the way he is even with all his physical limitations, and he's just going to throw it away because he doesn't want her to be strapped down by it. That's all he can think about. At the clinic, Louisa says, "You really are the most impossible man Traynor." To which he replies, "And the world will definitely be a much better place without me."
UGH! See the painting above with the tire tracks? I made it myself with my wheelchair at Joni and Friends Family Retreat in 2012 at Calvary Chapel Bible College and Conference Center in Murrieta California. Tommy Hollenstein was the name of the guy who led the workshop. He broke his neck in a bicycling accident in 1985 and became a quadriplegic. Something he loved doing with his hands, he now does with his wheelchair. He's a wheelchair artist! Until I went to Family Retreat that year, I'd never seen such a thing! I really enjoyed painting with my wheelchair! Tommy Hollenstein shares his talent and inspires others. I've heard and seen many stories of people like Tommy Hollenstein who have become disabled as the result of an accident. I'm not saying adjusting to a new lifestyle is easy, but they're still able to find a way to do the things they love differently such as art. I know there's a lot a person can do even with a disability. It's a shame Will couldn't figure that out. This movie encourages people with disabilities to think about dying. I was very disappointed in that. It made me want to think about making my own movie. I could make an autobiography about everything I've done including my first ballet recital and more. I'd call it, Danger Is My Middle Name. It would show people I do have moments of depression and sadness, but also how to overcome obstacles and live. Attitude really is a little thing that makes a big difference!
Finally, I was born with my cerebral palsy. While it's not quite the same for me as in the movie, I do know what it's like to deal with physical changes in my body. As I've gotten older, I'm not able to walk as far as I used to. I just got over a bone infection on my right foot in my big toe after having two surgeries. It's been a year and a half. I'm just now starting to get back on my feet and be able to use my walker again. Having physical limitations and relying on people can be frustrating. Through the years, I've lied in bed at night many times and thought, Lord, I can't do this anymore. I can't handle cerebral palsy. Can't you just bring me home to heaven now? He's the one who gave me life and He can take it away.
Job 14:5 says, "A person's days are determined; you have decreed the number of his months and have set limits he cannot exceed." Even in the instance of a terminal illness, I still believe God is in charge even in that situation. Nothing that happens to me is a surprise to Him. In Psalm 139, the ending part of verse 16 says, "All the days ordained for me were written in your book before one of them came to be." When someone takes their own life for any reason at all, they're playing God telling Him He made a mistake. As I've said many times, God NEVER makes mistakes! He doesn't say, "Oops, I didn't see that one coming."
You may ask, "Why would God allow a person to go through a terminal illness?" I don't understand everything God allows. His ways are mysterious. I do know some things are not meant for humans to understand here on earth but in heaven for those who are true Christ-Followers. While God hates suffering, He loves how it brings us closer to Him. Have you ever noticed when you've been sick even with the common cold, you slow down and appreciate the little things in life like family more? Anything that's going to teach us more about Him pleases Him. 2 Corinthians 12:9 says, "My grace is sufficient for you, for my power is made perfect in weakness." It's when we are weak that God is strong. That's when we depend on Him the most. Suffering gives us a better testimony as it helps us relate more to others so we can lead them to Christ. It displays God's goodness at its best. Jesus never said life would be easy and trouble free. Look at what He endured on the cross. John 16:33b says, "In this world, you will have trouble. But take heart! I have overcome the world!"
Amen! Lord, thank you for sending your son to die for me. In the midst of hard times, help me to endure trials the same way He endured them with courage. Even when I feel like it, help me to not give up and continue living dangerously for you! Thank you that you promise to never leave me nor forsake me and be there with me every step of the way. YOU ARE SO GOOD TO ME!
Works Cited
Candelora, Lani. "Assisted suicide cannot promise you a peaceful or painless death." LifeSiteNews. Life Site, 10 Oct. 2014. Web. 26 July 2017. https://www.lifesitenews.com/opinion/assisted-suicide-cannot-promise-you-a-peaceful-or-painless-death.
BILGER, MICAIAH. "Euthanasia Group Promotes Cheaper Drug for People to Use to Kill Themselves in an Assisted Suicide." LifeNews.com, 6 Apr. 2016, http://www.lifenews.com/2016/04/05/euthanasia-group-promotes-cheaper-drug-for-people-to-use-to-kill-themselves-in-an-assisted-suicide/. Accessed 14 Aug. 2017.
*All scripture references are taken from the NIV. (New International Version).
.