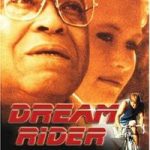 My mom and I have an App on our T.V. called Parables T.V. It has a whole bunch of Christian movies. One of my favorites is a movie called DreamRider. It's a true story based on real events. Matthew Geriak plays the role of Bruce Jennings, who due to a motorcycle accident lost a leg at the age of 18, two weeks before high school graduation. Determined to walk across the stage to get his diploma, he learns to use a prosthetic leg.
About five years later, after he became a Cal State Fullerton student, he was hit by a car while he was riding a bike. He suffered internal injuries, a broken leg, shoulder and ribs. Sent to a convalescent home to get professional care, Bruce meets Mr. William Perry played by James Earl Jones who challenges Bruce to stop feeling sorry for himself and go to Boston to see the Old North Church to see if the model he made really is an exact replica of it. Up until then, people have made the trip in 40 days. Bruce is determined to do it in 39 days on his bike with only one leg. He didn't have a prosthesis, but used a toe strap to both push and pull on the left bicycle pedal with his remaining leg.
The movie shows his ups and downs as he gets ready to go to Boston. I like the movie for many reasons. First, I like the wisdom in it. Surprised Bruce would even have a chance to live, Dr. Reade played by Javier Grajeda says, "All I saw was a young, strong, body refuse to give up when a normal body should have." His mother, Mrs. Jennings, played by E.J Peaker says,
"Dr. Reade, If we don't look for every bit of hope we can find, what good are we to the life in there?" So true!
I also love Mr. Perry who has a positive outlook on life and is full of wisdom. He asks Bruce to give him a date for when he's going to Boston. When Bruce asks Mr. Perry why he has such a hang up about time, Mr. Perry replies, "Time is the very essence of life. You waste your time you waste your life." Bruce learns not to waste time and begins training for Boston with the help of professionals, friends, and family.
Secondly, I like the movie because the disability never goes away. I've seen so many movies where the main character has an illness but by the end of the movie the illness is completely cured and the character has completely normal use of every part of the body. As the old storybook ending goes, "And they all lived happily ever after." That drives me crazy! While I believe that can happen, I also know there are instances where the illness or disability never goes away. Look at me. I was born with cerebral palsy. I'll always have cerebral palsy. I've seen a lot of organizations out there trying to find a cure for many things. I don't have a problem trying to find a cure, but that can be expensive. What if the experiment doesn't work? Then what? How long are we going to spend trying to find a cure? When is the time to say, "This is not curable. I need to learn how to live with it instead of get rid of it?" What if the condition you have is meant to stay with you for a lifetime? Are you going to cry about it the rest of your life, or are you going to do what you can with what you have and make a difference in your community?
Look at Jesus' response to the disciples about the blind man in John 9:3. "When asked who sinned, Jesus replied, "Neither this man nor his parents sinned," said Jesus, "but this happened so that the works of God might be displayed in him." (NIV). Instead of always trying to get rid of an illness or disability, we should be asking, "How can I use this to glorify God, my Creator?"
Finally, I like the movie because I saw a lot of myself in Bruce. As he's training, he turns into quite a fighter. While others question whether or not the trip is possible Bruce says, "I'm not giving up now!" I found myself rooting for him. Go, Bruce!
DreamRider is the most positive movie about a person with a disability I've seen so far. Other movies like Me Before You portray people with disabilities in a negative light. The person with the disability loses hope and wants help committing suicide.
On the other hand, in DreamRider, the main character learns having a disability doesn't mean the end of life, he just has to learn to do things differently. He gets a chance to ride across the country on one leg. What an opportunity! The guy used to play football. By having the new challenge, he gets to do something he might not have done otherwise and show the world you can do anything you put your mind to! I wish the film industry would make more movies like this today! We need it!
The night before his trip to Boston, as they talk about his journey, Mr. Perry encourages him not to stop.  Bruce says, "I can't go any further than Boston."
Mr. Perry answers, "I don't mean just the bicycle. Stay on the journey of your life. That's what counts." As they go inside, Mr. Perry asks, "Do you know what a real winner is? A  real winner is a guy who does his best. It doesn't matter what the score book says."
Amen! Lord, guide me as I stay on the journey of life. Let me be a winner in your eyes as I run the race for you. Thank you for allowing me to live!