Recently, Sarah and I went to the annual Joni and Friends Family Retreat at the Murrieta Hot Springs. We had a great time as usual. However, on the last day of camp, something happened.
We were in the dining hall eating our breakfast, and then the families were supposed to go pack up in their rooms, and go to the church service at the chapel. Sarah and I had done everything ahead of time, so we took our time eating breakfast and saying good-bye to people. Sarah is very social. She's the kind of person who really likes to slow down and savor every moment of everything. She's not in a hurry.
"Don't let anybody take my food," she said.
"Okay," I replied.
While I ate my breakfast, she went around the dining hall to take pictures and give everybody hugs.  Finally, as everyone left the dining hall and went back to their rooms to pack, Sarah still hadn't touched her breakfast. There was another person there named Rachel. When everyone else left, Sarah, Rachel, and I were the only ones there. The other Rachel taught an art class. We started talking about my books and the possibility of future illustrations. When Sarah was done saying good-bye to the last person leaving the dining hall, we still weren't done saying good-bye to the campgrounds, or to each other. We wanted to savor the moment even more. After all, Family Retreat only happens once a year. You never know if you're going to cross paths with the same people again. We went up on the stage and took a picture of the three of us. Rachel and I sang "Awesome God." We were having such a great time, and Sarah's food was still on the table. She would get to it eventually.
When we got off the stage, we were just about ready to leave and go to the church service. Sarah looked around for her food. It was gone!  "Ahhh!"  She panicked.
The problem: Sarah is on a special diet and can only eat certain foods. Her plate was full. She didn't understand why anyone would take it. She talked to someone who was part of the kitchen staff and explained the situation. The kitchen staff went back in the kitchen and talked to the person in charge.
"I guess I learned a lesson," Sarah said. "Take your food with you wherever you go." The kitchen staff came out with a box. In the box were hog dogs that had just been microwaved. As we went out to the lobby, Rachel carried the box and asked, "What's in here?"
"Hot dogs," Sarah answered. Really, they looked like overcooked sausage links. It wasn't exactly the best thing for Sarah to eat, but at least it would give her a little bit of protein to hold her over until my mom picked us up and we could stop somewhere.
Rachel couldn't believe Sarah was really going to eat the hot dogs. They didn't look good at all! Sarcastically, she remarked, "I like kittens, children, and warm hot dogs."
Sarah looked at me and said, "Rachael, that would be a great title for a blog or a book."
"Yeah," I said in agreement. This was quite a way to end the week. It would certainly be something I would remember.
Mom came and picked us up. Sarah and I both said our last good-byes, and then we got in the car and went to Carl's Jr. Sarah was finally able to eat something healthy, and we all got home safe and sound.
I'll never forget how Family Retreat is always full of fun and laughter. It's a great place to meet great people and develop lasting relationships, and have lots of adventures! You never know what might happen next! I can't wait until next summer!
Sarah March (Left) Rachael Rubenstein (Right) She's the one who taught the art class.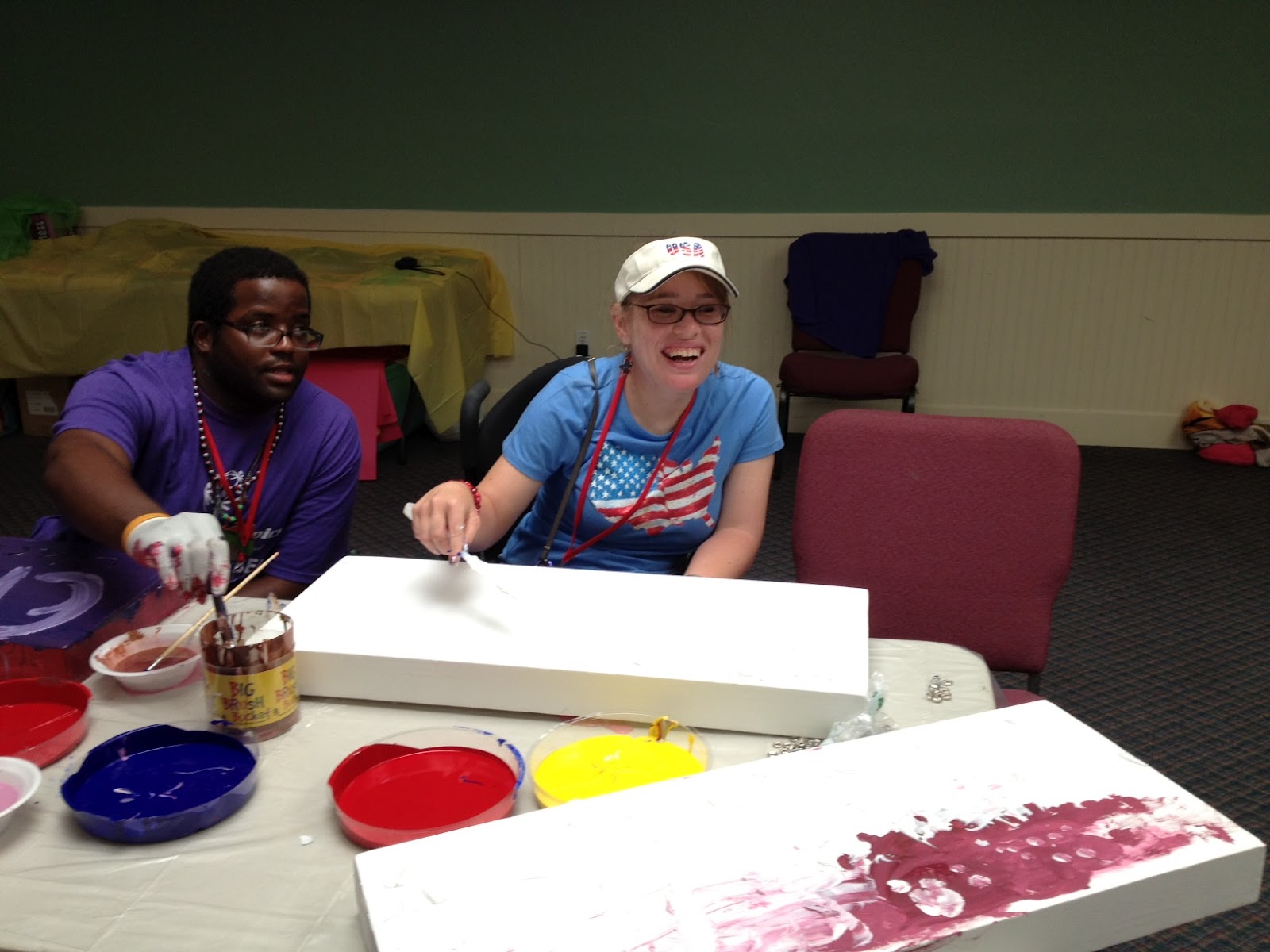 Art Class Friday afternoon
The finished product on display at the art show Saturday night. The yellow part is heaven. I'm ascending out of my wheelchair into heaven where I'll finally have the perfect body with no physical limitations!