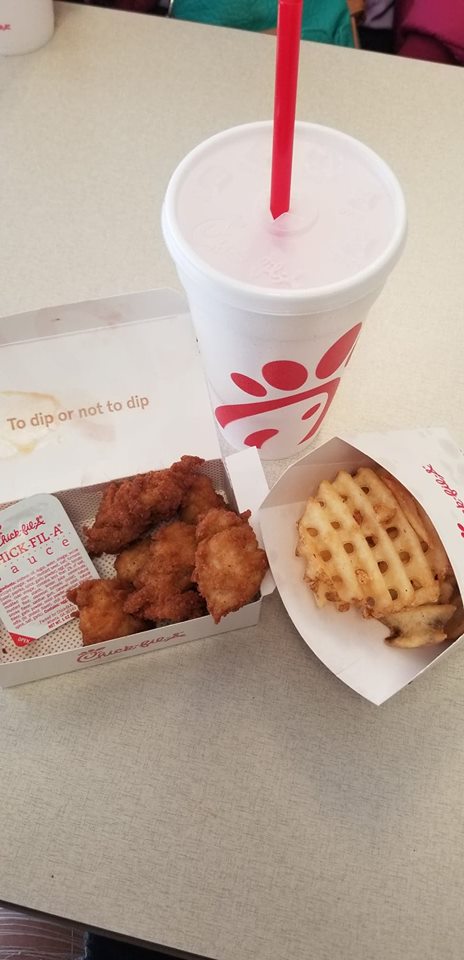 The last time I put up a new post on my blog, my friend Jessica pointed out to me that on blogs, paragraphs aren't indented. That's why most people who write blogs are able to get their material out so quickly. People don't even notice paragraphs aren't indented. I was shocked when I saw it! I was going by the rules I'd learned  in school, and never realized it! Jessica told me, "Think of it this way. When you go to a fast food restaurant, are you thinking, 'What looks the prettiest?' No, you're thinking, 'I just want to eat. I'm in a hurry. Just give me a burger and fries.' A book is like a fine restaurant where you sit down to eat." She was trying to help me break my perfectionism a little bit and get more writing material out there. It made me laugh.
At the same time, it made me think. Many times, even as Christians, we are often quick to pray for a miracle such as the healing of a loved one who is sick. Don't get me wrong; praying for healing isn't a bad thing. The Bible talks about praying for healing in James 5:14. "Is anyone among you sick? Let them call the elders of the church to pray over them and anoint them with oil in the name of the Lord." However, it shouldn't be the  focus of our Christian walk. The Bible says, "Instead, you ought to say, "If it is the Lord's will, we will live and do this or that." James 4:15.
My type of cerebral palsy is called Spastic Quadriplegia. Spasticity means muscle tightness and all four of my limbs are affected in some way, but the cerebral palsy is mostly in the legs. When I was six years old, my doctor told my parents about a surgery called Selective Dorsal Rhizotomy. The doctor said, "There's a good chance that this will help Rachael walk independently but there's no guarantee."The doctors did the surgery. I had started working in physical therapy when I was three years old. After the surgery, I continued working with the physical therapist to do everything I could to be able to walk independently, but it never happened.  If the surgery went the way doctors thought it would, I would be walking independently. However, God knew how the surgery was going to turn out, and He had a different plan for my life. If it was God's will for me to walk without my walker, I'd be doing it by now.
Just like the Lord said to Moses in Exodus 4:11, "Who gives human beings their mouths? Who makes them deaf or mute? Who gives them sight or makes them blind? Is it not I, the Lord?"
I'll admit it's hard sometimes, but even though I can't walk like I'd like to, I have a lot to be thankful for. Even with my disability, I'm still able to serve Him by helping others.
One of my favorite spiritual mentors who I listen to on a daily basis is Joni Eareckson Tada. She was paralyzed from the waist down in a diving accident at the age of 17. She wrote a  pamphlet called "Where's My Miracle?" In it she says,  "On a scale of one to ten, how often do you ask God to remove a painful situation from your life? On the same scale, how quick are you to tell people about the gospel, the real focus of Jesus' coming? Remember, God saved you to tell others his good news—and your painful situation may be his best platform to showcase that."
Amen!  I do believe God can heal someone physically if He believes that's how they're going to serve Him best. However, He is in control of all things. When Jesus was on earth, physical healing wasn't His primary goal. His goal was to heal people spiritually and save them from themselves. In Mark 1:38, Jesus  replied,  "Let us go somewhere else—to the nearby villages—so I can preach there also. That is why I have come."
Think about it; of those He healed, how many people came back to thank Him? Did those people want to learn about who He really was?  No. They just wanted a miracle worker. To this day, I still believe that's true. When everything is fine, we tend not to lean on God. We don't go to church, we don't read our Bibles, and we don't pray. However, when we have a hardship, suddenly we're looking for answers and crying out to God. I believe the reason He allows people like me to have a hardship on a daily basis, is because He knows it will bring honor to His name.  Now more than ever, our world needs a deep spiritual healing the ability to walk won't fix!
Another Quote from "Where's My Miracle?"
"I sometimes shudder to think of where I would be today if I had not broken my neck. I could not see at first why God would possibly allow it― how it could be His will―but I sure understand now. God has gotten so much more glory through my paralysis than through my health. And believe me, you'll never know how rich that makes me feel. If God chooses to heal you in answer to your prayers, that's great–I join you in praising the Lord for his mercy! But if he chooses not to heal you, thank him anyway. You can be sure he has his reasons."
Dear Lord,
Thank you for the lessons you've taught me about you through my disability. As I approach the New Year, may I grow deeper in my understanding of who you are.  Help me pay more attention to the details about my relationship with you, and less attention to the details of other things. Help me to treat my relationship with you like a fine restaurant and not a fast food place.
Amen

I do not own rights to the video. I picked it because I like the quote about miracles. Watch it and you'll see. It also has some good scriptures.
Works Cited
Costi Hinn. (n.d.). Retrieved from https://old.joniandfriends.org/radio/4-minute/costi-hinn/
Joni interviews Costi Hinn, Benny Hinn's nephew. Hear why he left the faith healing industry.
"Unanswered Prayer: Where's My Miracle?" Joni and Friends, store.joniandfriends.org/product/unanswered-prayer-wheres-my-miracle/?fbclid=IwAR3qyhSZly22lKlHWWpzcM8N_bcJpQiOnVE0ssW45cBHasOJCnVqGENIvqw.
Phantom306. (2011, July 19). Blessings by Laura Story. Retrieved December 30, 2018, from https://www.youtube.com/watch?v=EgKyGIWtxuU&feature=youtu.be