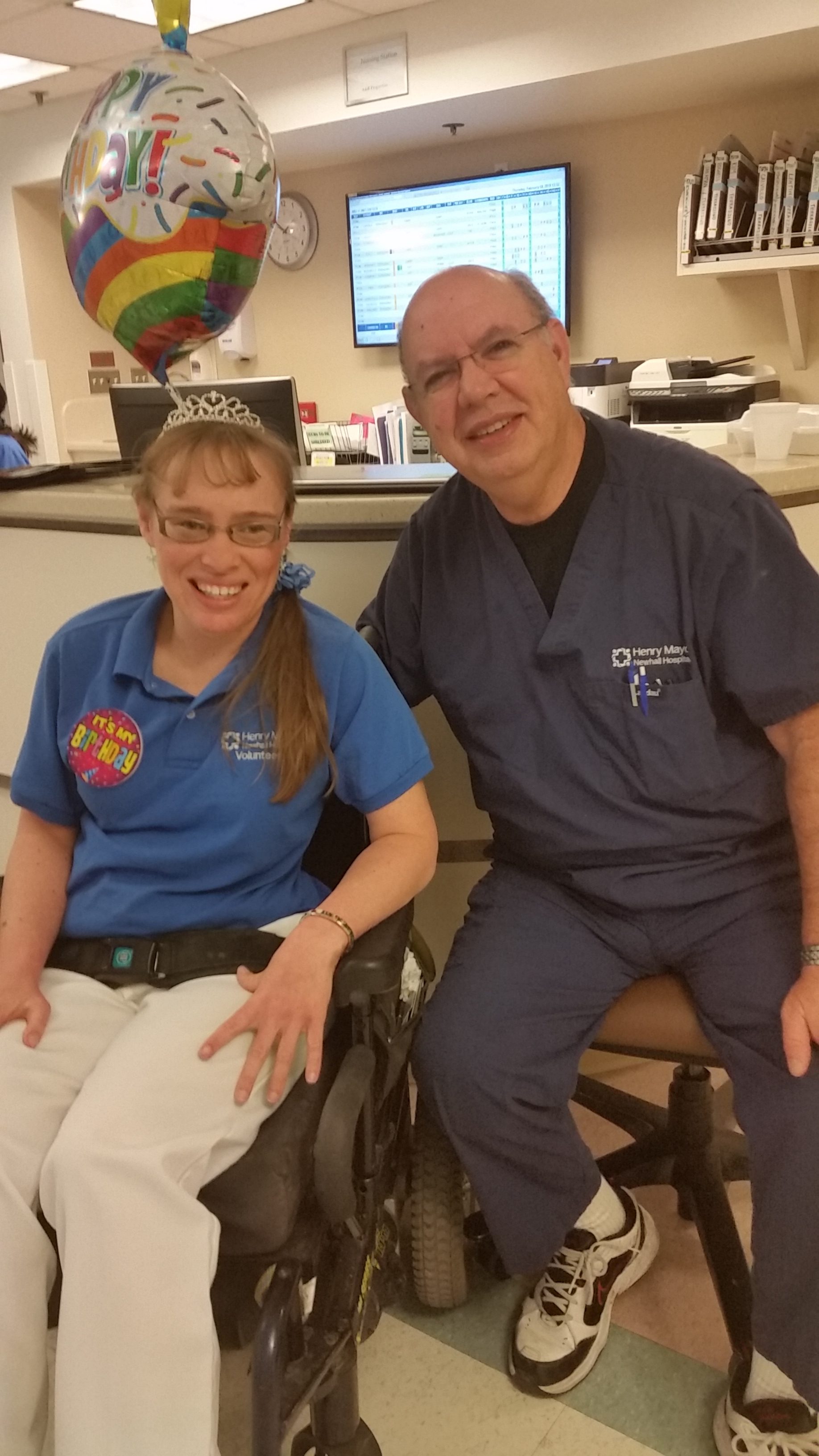 This is my friend Ken Seekers. He's  the one from Michigan who told me about the different phrases for the different days of the week. I love our conversations Ken. Thanks for helping me come up with the Blog title for this post!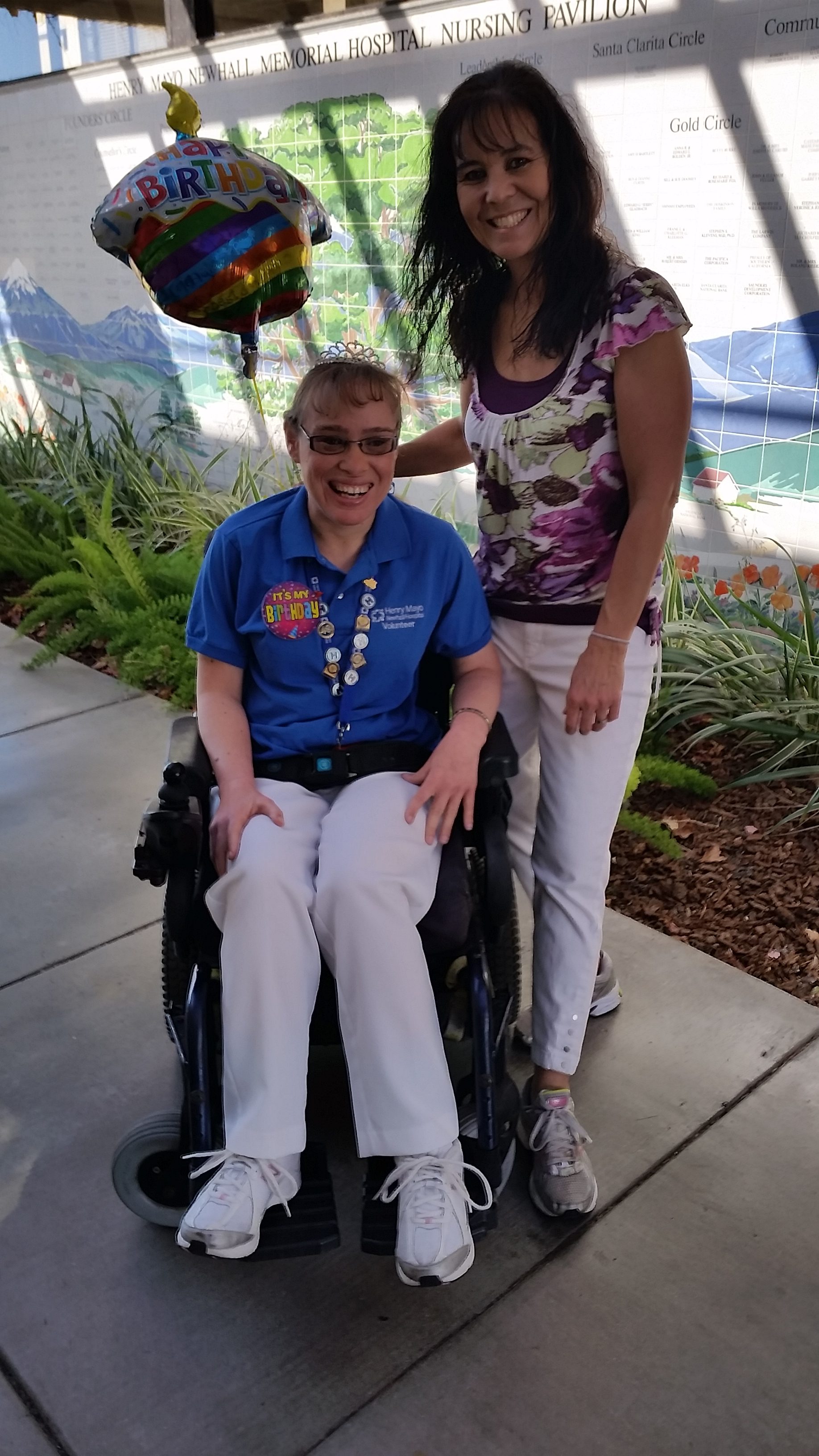 This is my personal care attendant Traci. She gave me the suggestion for this new blog post since I tell patients the different phrases frequently. Great idea! Thanks for your help Traci. We really do make a great team! I love our many adventures!
I volunteer at my local hospital twice a week passing out magazines and delivering smiles to patients. My job title is "patient visitations "volunteer. My favorite part of the job is being able to talk to patients and visitors and hear about their many life experiences. Even the nurses and doctors love to talk to me as well.
One of my favorite nurses is a guy named Ken. He works on the Acute Rehab floor. He's from Michigan. He says the weather back there is pretty gloomy all year round. There's lots of rain, snow, it's windy, etc. You get the idea. Because of that, you often see people walking around with glum faces. In order to make people smile, someone came up with a phrase for every day of the week. Here they are:
Merry Monday.
Terrific Tuesday.
Wonderful Wednesday.
Thankful Thursday.
Fantastic Friday.
Super Saturday and Sunday.
He said it worked! People started laughing and smiling, and were happier. I believe it. The phrases are catchy. I often share them with patients and visitors. It makes them smile. So, here's my challenge to you. Find something in every day you can thank God for and praise Him. It's a great way to share the gospel. When people see Christians smiling even through the hard times, they get really curious and wonder why.  Look at your bible and pick out a verse for the day. For instance, for Merry Monday a good verse is Proverbs 17:22 where it says:
"A cheerful heart is good medicine,
but a crushed spirit dries up the bones."
Many physical illnesses are brought on by unnecessary worry and anxiety. What's one good thing that makes your heart feel merry? How do you like the nice warm weather we're having? I love the sunshine!  Did someone tell a funny joke? If you have a pet at home, what did they do that made you laugh? Focus on that.
On Terrific Tuesday, What happened that makes your heart feel terrific? In my case, I feel terrific when a training session goes well at the gym. With cerebral palsy, every little thing I'm able to accomplish toward being independent  is progress. Philippians 4: 4-7 "Rejoice in the Lord always. I will say it again: Rejoice! Let your gentleness be evident to all. The Lord is near. Do not be anxious about anything, but in every situation, by prayer and petition, with thanksgiving, present your requests to God. And the peace of God, which transcends all understanding, will guard your hearts and your minds in Christ Jesus."
On Wonderful Wednesday, many times I think about the great times I'm going to have with my Awana kids. I love dressing up for theme nights. I can also  thank God He allowed me to live so I can tell people about His goodness. The way things went when I was born, I should be in heaven now. Psalms 139: 13-14 says: "For you created my inmost being;
you knit me together in my mother's womb.
 I praise you because I am fearfully and wonderfully made;
your works are wonderful,
I know that full well."
On Thankful Thursday, I can be thankful I'm able to volunteer at the hospital and church and have a huge impact on people. People are often surprised when I tell them I have CP because they've seen worse cases of it. To them, I don't look like I should have it because I can sit up in my wheelchair so well. One time, one visitor said, "You speak well." Volunteering at the hospital is a highlight of my week. Many people have asked me how they can become volunteers when they see me volunteering; I have also encouraged people who have to adjust to a lifetime in a wheelchair. I love it. It gives me a great sense of fulfillment. Sometimes, just to add a little bit of humor I tell people, "I'm thankful for Thankful Thursday because on Thankful Thursday, I get to plan what I'm going to do on Fantastic Friday and the rest of the weekend." It makes people laugh. 1 Thessalonians 5:18 "Give thanks in all circumstances; for this is God's will for you in Christ Jesus."
On Fantastic Friday ,(This one is my favorite. I honk the horn on my wheelchair on this day), BEEP! BEEP! BEEP!  I often think about the fun places my mom and I are going to go over the weekend. One of her favorite things to do is go for a drive up the coast. I love that too. Just recently, we took a drive up north to a place that has a whole bunch of swedish shops called Solvang. It's above Santa Barbra. They have a Christmas shop I love. As we drive, we can just sit back and admire God's creation. I love looking out the widow at the ocean and the green hills because of all the rain. John 1:3. "Through him all things were made; without him nothing was made that has been made."
On Super Saturday and Sunday, I'm thankful I get to sleep in, do things at my own pace, and spend time with my mom. At the end of the day on Saturday, we go to the 5:30 service at church. Psalms 118:24 says:
"This is the day the Lord has made;
We will rejoice and be glad in it."
What blessings in your life can you thank God for this week?
Lord, as Christ-followers help us to be people who proclaim your goodness. Help us to find ways to live out your word and do what it says in Psalms 34:1-2. "I will bless the Lord at all times;
His praise shall continually be in my mouth." May we be people who bless your name at all times so we can advance your kingdom and bring people to you. Amen.
Author's Note: All Scripture references are taken from the New International Version of the Bible except the last two which are taken from the New King James Version of the Bible.