Playing With Play-Doh Week Two "Before I formed you, I knew you."
Today Jessica and I played with play-doh again. This is me smoothing out the rough edges in the center of the play-doh with the rolling pin. I'm very focused. Jessica first handed me the play-doh and said, "Flatten it." Then I did what you see here. I had trouble applying the right amount of pressure at first. Then Jessica said, "Pretend there's treasure underneath and you're digging for chocolate." Then I was able to do it just right. My brain relates well to candy. Jessica knows me well!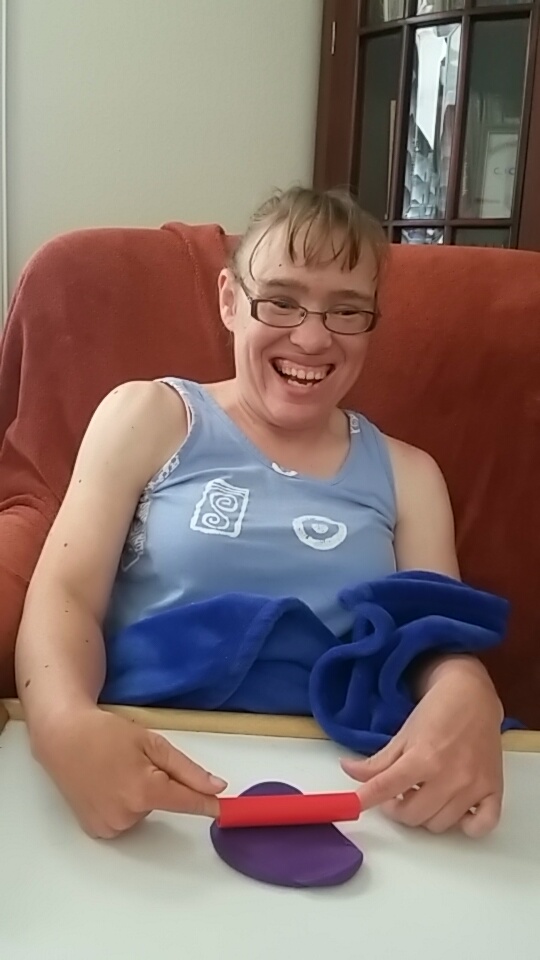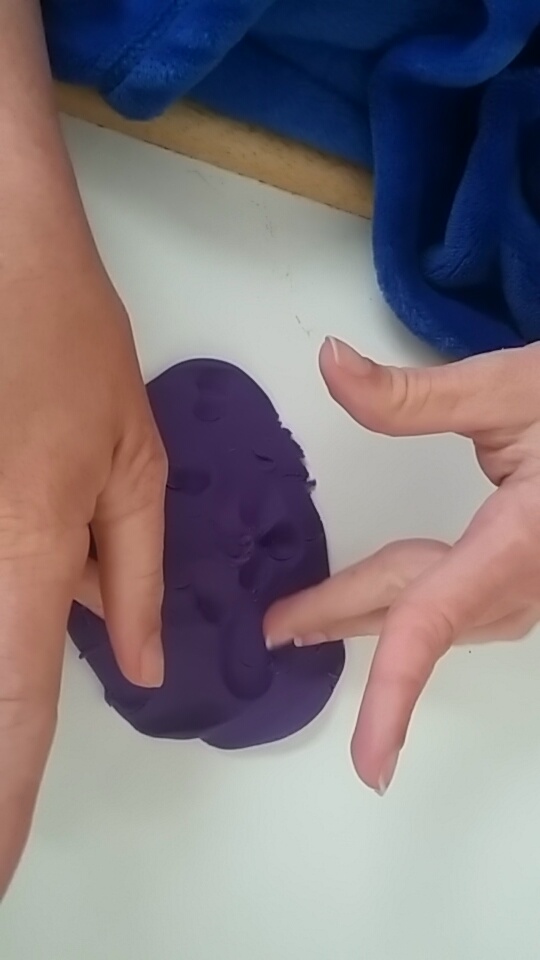 Here, I'm working on isolating my fingers one at a time and making fingerprints in the play-doh. It wasn't easy, especially with the pinky! It kept wanting to sneak in at the same time as my ring finger. Jessica had to help me hold it back. Notice how all the fingerprints are unique. None of them are alike. Each one is unique which is what makes them special. As Christians, God calls us to be set apart. This means not giving into the ways of the world, including everything we do, even the way we think about our outer appearances. I don't have a problem with wearing makeup. I wear makeup sometimes for special occasions. However, I have a problem when women spend five or six hours in the bathroom putting on make-up every day just to look like their favorite movie star. The reason people look the way they do on t.v. is due to technology that's in the studios. No one ever has, "The perfect look." There will always be something you don't like about your body if you focus on it that much. Instead, people should focus on whether or not their hearts are right with the Lord. God doesn't make mistakes. Jeremiah 1:5 says, "Before I formed you in the womb I knew you. before you were born I set you apart; I appointed you as a prophet to the nations." Amen! Thank you, Lord, that that you knew me before you formed me. Help me to celebrates my uniqueness, and live as someone who is set apart to honor you. Amen.
Activity/Discussion for 5th and 6th grade Awana or Sunday School Do what I did with the play-doh. Have the kids make their own fingerprints in it and talk about how each fingerprint is unique. Have a conversation about how each person is a gift because of their uniqueness. That's how we learn from each other. God is the master artist. Close in a time of prayer, and quote Jeremiah 1:5. Pray that God would help them to be set apart as prophets to the nations.