Lights, Camera, Action! Or not?; God's Small lessons shape my character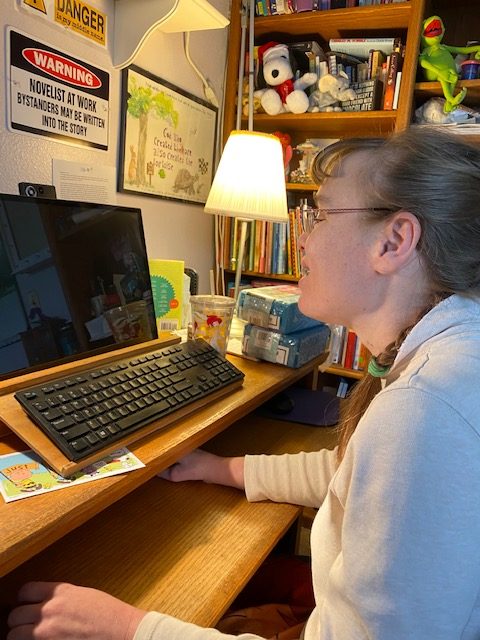 This is a small glimpse of my writer's office. I'm in my room.
1 Corinthians 9:24-25
"Do you not know that in a race all the runners run, but only one gets the prize? Run in such a way as to get the prize. Everyone who competes in the games goes into strict training. They do it to get a crown that will not last, but we do it to get a crown that will last forever."
Have you ever tried to figure out something for a long time, and then later, when you finally figured it out, you said to yourself, "Why didn't I notice that before? How did I miss it?"
That's what happened to me the other night. Because of this whole social distancing thing, in order to stay connected to each other, my Awana group decided to do an online video meeting. When it was time, I typed in everything I was supposed to and logged on. Everyone could hear my voice, but no one could see my face; I couldn't figure out why. I looked all over my computer screen. Finally, when the meeting was almost over, my mom figured it out. My webcam was on top of the computer screen. It had a button right in the center that needed to be pushed to be popped up. My mom pushed the button, and it worked! Everyone could see me!   That's right!  How many times did Jessica say, "Look up." Duh!
I felt so silly!How did I not notice that when Jessica and I had done all of those videos for my YouTube channel in the past? After I thought about it, I realized it was because my mind had been so focused on writing and memorizing the scripts, and trying to convey my message, that I didn't notice everything Jessica did to help me make it happen. Sometimes that's what happens when I can't physically do something for myself. If I don't have to think about something, I don't. Oh well, now I'll remember where the button is next time and in the future.
It reminded me of how hard it is for us to see the obvious, small lessons that God is often trying to teach us. Lessons that shape our character to help us become more like Him. Many times, while God is allowing us to go through something, at the time, we may ask, "Lord, what are you doing?" The Lord says, "Trust me."  After we get through the trial God allows, if we have the right attitude and we turn to God for help, we can look back and say, "Here's what I learned about God while I was going through this. Here's the jewel that was added to my heavenly crown." When you get to the end of your trial, can you honestly say, "God is so good?" What jewels has the Lord added to your heavenly crown so far?
Dear Lord,
Help me to pay attention to the small, obvious lessons you're trying to teach me that help shape my character. Remind me that while I'm here on earth, I'm in training for heaven. Thank you for the reminder that true strength is only found in you. Help me get through my trials well, so that I may earn many jewels on my crown, and we'll have a big welcome home party in heaven.
Amen